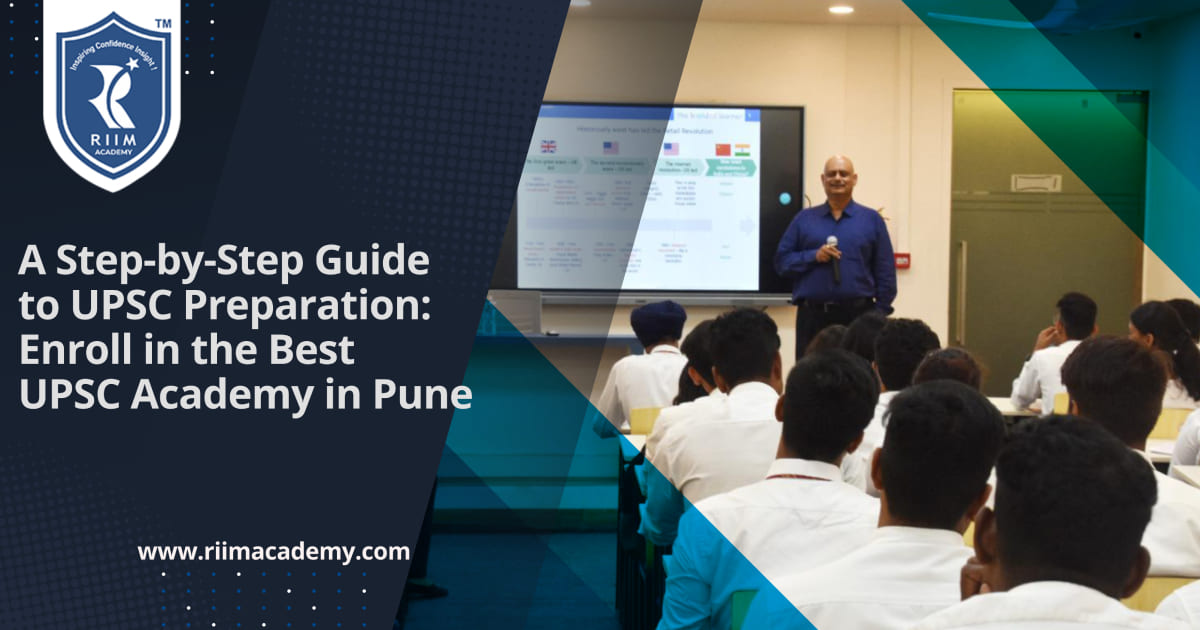 Introduction:
Are you aspiring to join the prestigious Indian Administrative Service (IAS) and looking for top-notch UPSC classes in Pune? Look no further! RIIM Academy Pune is your ultimate destination for the best coaching to prepare for the UPSC exam. With its impeccable track record, experienced faculty, and result-oriented approach, RIIM Academy is committed to guiding you on the path to success. In this blog, we will explore how RIIM Academy can be your ideal partner in achieving your UPSC dreams.
1. Why RIIM Academy Pune?
RIIM Academy Pune stands out as a leading UPSC coaching institute in Pune region. Here's why you should choose RIIM Academy to begin your UPSC preparation journey:
Expert Faculty: The academy boasts a team of highly qualified and experienced faculty members who have a deep understanding of the UPSC exam pattern and syllabus.
Result-Oriented Approach: RIIM Academy's teaching methodology is designed to provide a balanced blend of theory, current affairs, and practice. They focus on building a strong foundation and developing analytical skills, which are vital for cracking the UPSC exam.
Comprehensive Study Material: RIIM Academy provides comprehensive and up-to-date study materials, covering all relevant topics and helping you stay on top of the vast UPSC syllabus.
Mock Tests and Practice Sessions:Regular mock tests and practice sessions are conducted to help students assess their progress and identify areas that require improvement.
Personalized Attention: With a limited batch size, RIIM Academy ensures that each student receives personalized attention, enabling them to clarify doubts and strengthen weak areas.
2.Courses Offered:
RIIM Academy Pune offers a range of courses tailored to suit the diverse needs of UPSC aspirants:
Foundation Course: Ideal for beginners, this course covers all UPSC subjects from the basics, providing a strong foundation for the preparation journey.
Prelims-cum-Mains Course: This integrated course focuses on both UPSC Prelims and Mains examinations, offering comprehensive coverage of the entire syllabus.
Interview Guidance: Apart from the written exams, RIIM Academy also offers guidance for the UPSC interview round, ensuring you are well-prepared for the final stage.
3. The RIIM Academy Edge:
What sets RIIM Academy apart from other UPSC coaching institutes in Pune?
Success Stories: RIIM Academy has an impressive track record of producing successful UPSC candidates, with many of them holding high positions in civil services.
Supportive Environment: The academy fosters a supportive learning environment, encouraging students to interact, discuss ideas, and motivate each other.
Current Affairs Update: Staying updated with current affairs is vital for the UPSC exam. RIIM Academy keeps students informed about the latest happenings through regular discussions and updates.
Mentorship Program: RIIM Academy's mentorship program connects students with previous successful candidates who can offer guidance and inspiration throughout the preparation process.
How to Join RIIM Academy Pune?
Joining RIIM Academy Pune is a straightforward process:
Visit the RIIM Academy website or contact them directly to gather information about the courses and admission process.
Attend a counseling session at the academy to understand which course suits your requirements the best.
Complete the registration process by submitting the necessary documents and fees.
Conclusion:
If you are seeking the best UPSC coaching in Pune, look no further than RIIM Academy Pune. With its expert faculty, result-oriented approach, and successful track record, RIIM Academy has emerged as a top-notch institute to help you achieve your UPSC dreams. Enroll in RIIM Academy today and take the first step towards a promising career in civil services. Remember, success in the UPSC exam requires dedication, perseverance, and the right guidance - and RIIM Academy provides it all!