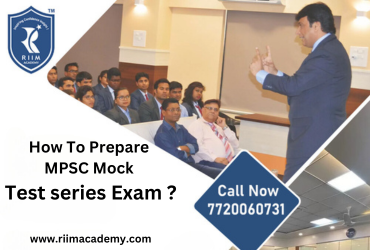 Riim Academy is best for Competitive examinations, which enhance your study with structured manner. Students can study perfectly from their Pune location. Greatly loved by students, parents, and tutors.Riim Academy is the largest academy in the field of UPSC & MPSC competitive examination training. Riim Academy is the probably number 1 institute for preparation for UPSC, MPSC, and Maharashtra Regional Exams
About MPSC Subordinate Services Group B (Pre + Mains) Mock Test 2023
Studying for the MPSC Combine exam requires a thorough understanding of the syllabus and key topics. A variety of topics and difficulty levels are covered in the test series. Additionally, it will provide insight into the MPSC Combine exam itself. Taking this online MPSC Combine moc tests will greatly benefit your exam preparation since they provide practical insight into the types of questions you might be asked on the exam. Additionally, the MPSC Combine mock test assists you in identifying the proper strategy for answering certain questions and in identifying your errors. Learn more about the MPSC Combine Previous Years Papers ,In How Many Languages will the MPSC Combine Test Series be Available? The online MPSC Combine Mock Test is available in English and Marathi. Our MPSC Combine mock tests provide candidates with real-time exposure to what they will face in the actual exam, complete with all instructions and time limits.
Why Opt for the MPSC Combine MockTest?
The MPSC Combine Test Series will assist candidates in reviewing the MPSC Combine syllabus for all topics covered in the exam. The MPSC Combine Mock Test will assist the applicants in identifying the areas or subjects on which they need to concentrate more. It will also assist in practicing the questions on a variety of subjects. Candidates can familiarize themselves with the types of questions answered and the weight age of the various areas included in the exam by taking the MPSC Combine Mock Test. Clarify any uncertainties: While taking the mock exams, students can mark the questions about which they are unsure and reattempt them. This makes sure that students are at ease when they show up for the big test.
Check more about the MPSC Combine Admit Card
Hope this article on the MPSC Combine Mock Test was insightful. You may give the free Test book from the Riim Academy website today and commence your preparations for various competitive examinations including the MPSC Combine exam. In the class, you will get access to quizzes, live classes, Previous Years' Papers, and many other services. The Preliminary Examination is held at most of the district places in Maharashtra. The authorities release the MPSC answer key for Prelims soon after the exam. After the result of the Preliminary Examination is declared, the successful candidates are called to appear for the Main Examination. Marks scored in the Preliminary Examination are not counted for the final selection of the candidates.