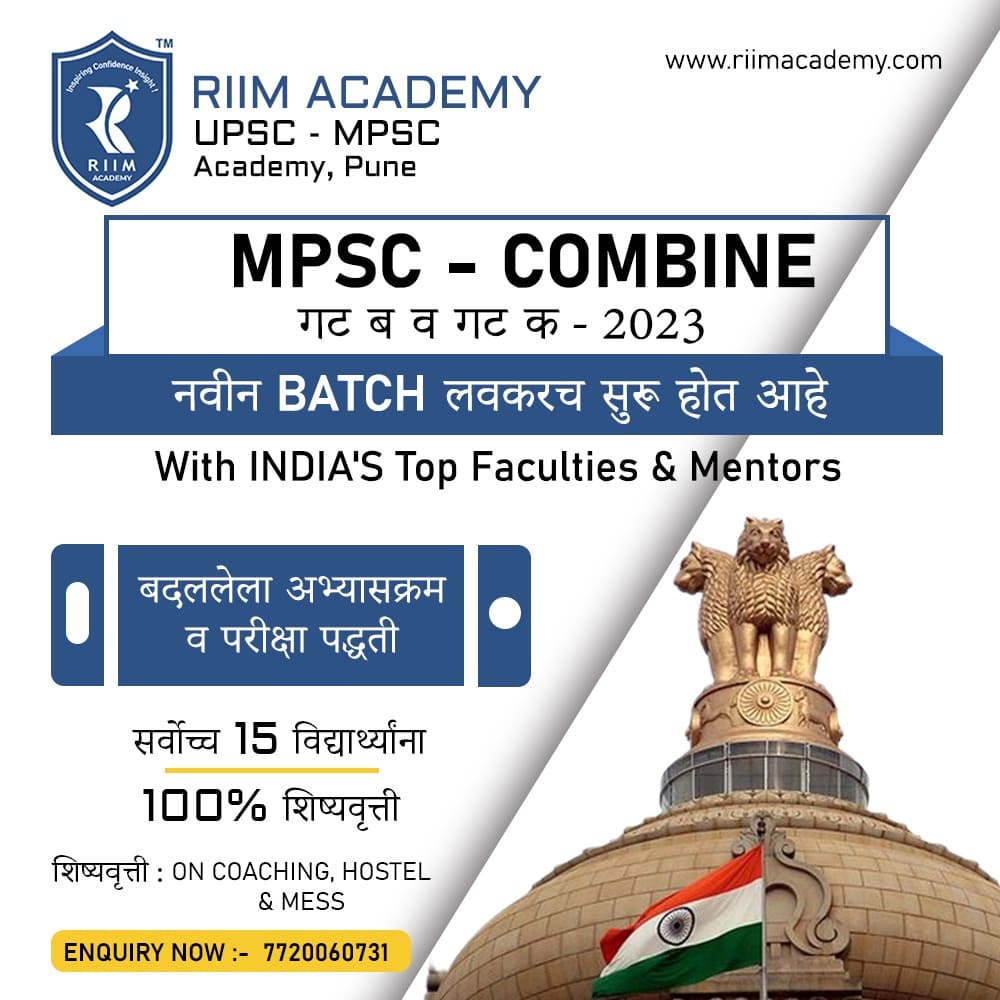 The public service commission is an intermediary to a life of entitlement and status. Against India's huge and thriving population, this is a pathway that offers instant entry to get respectability and success in life. The government provides all the facilities to officers till the age of 60 along with job security which attracts people towards MPSC. Maharashtra Public Service Commission conducts various examinations such as:
State Service Exam
Agricultural Service Examination
Maharashtra Engineering Service
Forest Service Examination
How To Prepare For Mpsc?
The MPSC state Service Exam is definitely NOT easy to clear. Unlike the school or college exams, there is no Pass or Fail in this exam. Here are some points which should be taken into consideration while preparing for MPSC
MPSC Syllabus:
Before you start to prepare for the MPSC exam, the very first step is to read and understand the detailed Time Management This is really very important to manage the time very well in the exam as this exam is not merely a knowledge test but the time test. You may be a bright student but you may not be able to answer every question in a given time, right? In the Preliminary exam, all you have to do is use the "Discriminatory" method while selecting one correct (most appropriate one) answer from the different options.
There may be two or more correct answers but you need to choose the most suitable answer. This is not like the school or college exam. The main purpose of this Prelims exam is to eliminate a huge number of candidates to choose only the best who can serve the country using their skills, judgment, knowledge, etc. Do not waste your time in answering tough questions, go for easy questions first and then for the tougher ones.
NO Luck Only Hard Work
As everyone knows, there is no substitute for hard work, right? Here is a test. Can you sit day-dreaming of becoming a very famous Film Actor/ Actress and do nothing? No, you cannot sit idle and become an actor. You have to learn acting or do it yourself. You have to practice a lot and know every aspect of acting. You have to acquire acting skills then only, after so much of hard work, you can become a successful actor. There are actors who are actors but not successful actors, right? So to win the competition, you have to work hard and acquire knowledge of exceptional quality. To clear the MPSC State Services Exam, you need to work hard and there is no substitute other than this; not even Luck. If you have a high level of knowledge, you will clear the exam and you don't need Luck at all. People fail because they do not work hard enough. Working hard means studying a lot, spending hours and hours every day on learning everything that is supposed to be known in a given subject. Mastering a subject takes lots of hard work. Many candidates who do a job or business, or undergo further studies, spend only 2 hours or so for the preparation of this exam because they do not have much time but this is not sufficient for you people who want to leave this job/business and become a Dy. Collector or Dy. SP or even a Naib-Tehsildar. You need to spend at least 4 hours every day. If you look on your daily schedule, you can easily manage 2 hours in the morning or afternoon and 2 hours in the evening or night. You have to work hard else to leave this dream.
Wrong or Insufficient Study Material:
Firstly, many candidates try to solve question papers first to know what level of knowledge they have. This is the wrong approach. You are going to do this in an actual exam so what is the point in knowing what you know about the subject without learning and mastering it first? After trying to solve the papers themselves without studying first, some people get discouraged and depressed to know they do not know anything. You should learn everything about it and master your subject and then test yourself. This will then be easy to answer any question when you have a basic understanding of the subject. Secondly, candidates choose the wrong study material. If you are preparing for MPSC State Services, why do you try to read books of PSI/STI exams? Go for books that are specially written for MPSC State Services and they cover each topic/subtopic. Try to collect the maximum amount of study material as you can. Get at least 2 books/reference material for each topic/subject so that you can cover everything. Remember, the fight is tough and only those candidates survive who are equipped with excellent knowledge – "Survival of the fittest" is the Guru Mantra for this examination.
Mock Tests:
Most of the candidates either don't know the importance of the practice tests called "Mock Tests" or do not want to know because of insufficient time available with them for the preparation of this exam. In the absence of this practice and knowledge, they fail. Please remember, practice makes the man perfect. You need to unravel old and sample question papers under the exam conditions before the particular exam. Solve as many question papers as you can. You must try to solve at least 10000 (Ten Thousand) questions in total. If you've studied well, you'll answer all questions correctly and will score above 85% for all the questions. But remember, there's negative marking so your marks are going to be deducted from the entire score. So it is very important to answer only those questions that are known to you and leave those you do not know what are the answers for them. This will make sure that you get maximum marks without being penalized for the wrong answers.
How to appear for MPSC Exams?
Check the official MPSC website or lookout for advertisements in Employment News and local newspapers. Buy an MPSC exam application form from the Head Post Office in your area. Note that MPSC exam application forms are available on Head Post Offices only and not at any branch Post Office. The application form comes with MPSC Exams Information Brochure, along with other requisite forms. This Information Brochure gives all the requisite information, including exam venues, instructions to fill the MPSC application form, etc. Fill up the form with all the necessary details and submit it with the fees to the Head Post Office before the last date of application. About 15 days before the MPSC exam, you will receive an intimation about the exam center, date and time of the exam. This intimation may also come a month before the MPSC exam.
How many times can I appear for the MPSC Exam?
There are no limits to the number of attempts for the MPSC Exam. However, you will have to appear for the MPSC Prelim exam and pass it to be eligible to appear for the main MPSC exam.
What is the Eligibility criteria to appear for the MPSC Exam?
Educational Qualifications for MPSC Exam in Pune You must have a Graduate degree to appear for the MPSC exams. Students in their final year of graduation can also appear for the MPSC exam. Age Qualifications for MPSC Exam in Pune: The minimum age for candidates appearing for an MPSC exam is 18 years, the maximum age generally is 33 years. The maximum age is relax able for OBC candidates (max. 35yrs.) and for SC/ST/NT candidates (max. 38yrs.)