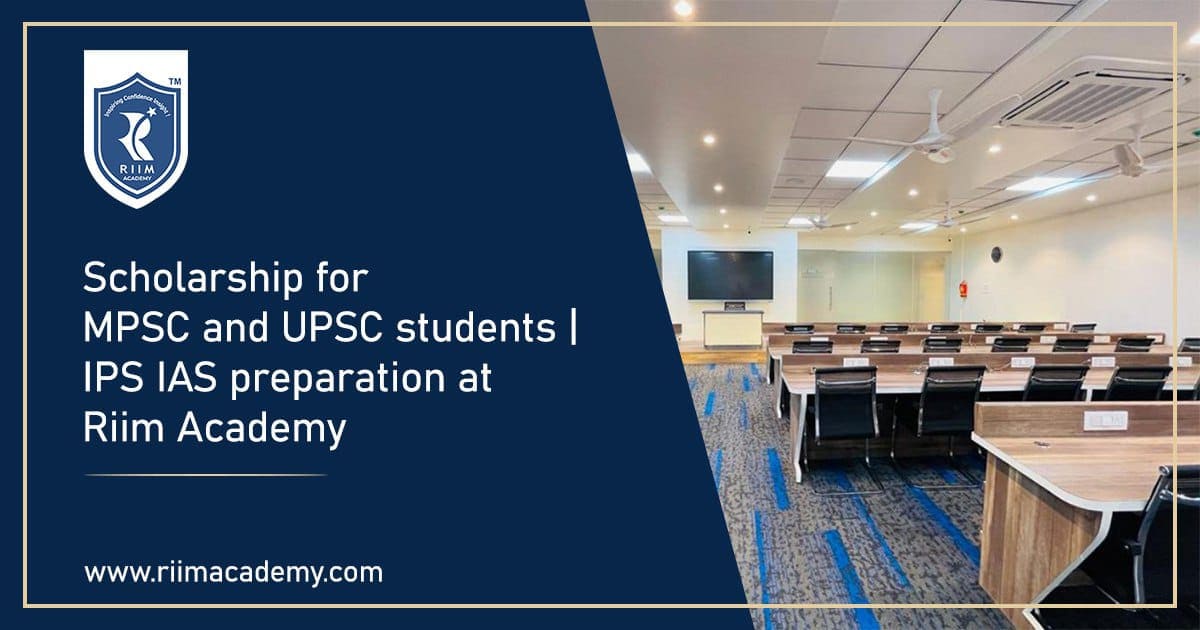 Why Choose RIIM Academy's scholarships?
Are you an ambitious individual with a strong desire to serve the nation through the esteemed civil service? If you dream of wearing the prestigious civil servant's hat and making a positive impact on society, then the UPSC (Union Public Service Commission) and MPSC (Maharashtra Public Service Commission) examinations are your gateways to success. Navigating through the vast sea of syllabus and preparation can be challenging, but fear not! We unveil an exceptional opportunity for aspirants like you: the UPSC/MPSC scholarship at RIIM Academy.
Discover how these MPSC scholarships can move you towards achieving your dreams while also taking a closer look at how RIIM Academy stands out compared to other institutes.
The Power of MPSC Scholarships:
Scholarships play a pivotal role in providing deserving candidates with the means to access quality education and guidance. Recognizing the potential of dedicated aspirants, RIIM IAS Academy has introduced a range of UPSC and MPSC scholarships that not only ease the financial burden of the coaching institute but also ensure that no deserving candidate is left behind. The RIIM Academy understands the financial challenges that many aspirants face. That's why we offer scholarships that cater to various needs, ensuring that talented individuals can access top-notch coaching without constraints. The scholarships at RIIM Academy are awarded based on merit, allowing the most deserving candidates to avail themselves of the benefits. This ensures that your dedication and hard work are recognized and rewarded.
Comparing RIIM Academy to Other Institutes:
Unlike some institutes that merely focus on exam preparation, RIIM Academy takes a holistic approach. They understand that success in the civil service requires not only subject knowledge but also effective time management, mock interview preparation in Pune, and more.
Application Process for UPSC and MPSC Scholarships at RIIM Academy
The pathway to securing your UPSC or MPSC scholarship at RIIM Academy is designed to be both simple and competitive. To ensure you don't miss out on this incredible opportunity due to limited seats, we encourage interested candidates to swiftly follow the outlined steps.
RIIM Scholarship Application:
Step 1: Complete the Online Scholarship Application Form by submitting the necessary details. As an initial step, reserve your seat for the selection process by paying a nominal fee of Rs. 1000.
Step 2: Engage in the Scholarship Eligibility Test (SET). This test serves as the first checkpoint in assessing your suitability for the scholarship. Your performance here is pivotal in moving forward to the next phase.
Step 3: Having successfully cleared the SET, proceed to the personal interaction round on the scheduled date. This interaction is an opportunity for us to get to know you better and evaluate your potential for scholarship consideration.
Performance-Driven Scholarship Allocation:
Your journey towards securing a UPSC or MPSC scholarship at RIIM Academy is intricately linked to your performance at every stage of the process. Each phase serves as a stepping stone, ultimately determining the extent of the scholarship you are awarded. At RIIM Academy, we believe in recognizing and nurturing talent. Your performance in the Scholarship Eligibility Test and the subsequent personal interaction forms the basis for scholarship selection. Your commitment to excellence and your demonstrated potential are key factors that contribute to the final scholarship decision.
Conclusion:
The application process for UPSC and MPSC scholarships at RIIM Academy is designed with your convenience in mind while also valuing your commitment to your aspirations. By following the outlined steps—from completing the scholarship application form to excelling in the Scholarship Eligibility Test and personal interaction—you pave the way for not only a scholarship but also a transformative journey towards realizing your dreams. Your dedication and performance are the cornerstones upon which your scholarship amount is determined. Seize this opportunity to showcase your potential and secure the support you deserve on your journey towards UPSC and MPSC success.