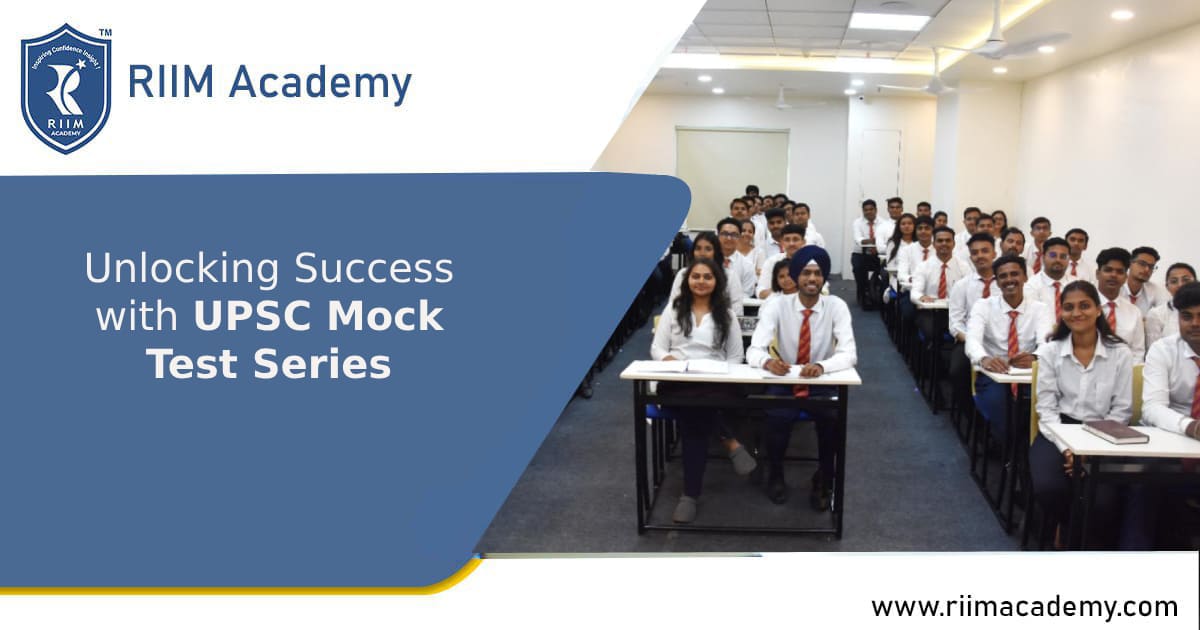 RIIM Academy's Prelims Test Series is a valuable resource for students of the UPSC Civil Services Examination. Let's explore the benefits of this test series and how it can help you in your preparation.
What is a Prelims Test Series?
A Prelims Test Series is a curated set of mock tests designed to simulate the actual UPSC Prelims Examination. It covers the syllabus, pattern, and difficulty level of the exam, allowing you to evaluate your performance and identify areas for improvement.
Why is a Prelims Test Series useful?
The Prelims Test Series offered by RIIM Academy is useful for several reasons:
1. Comprehensive Coverage: The test series covers the entire syllabus of the UPSC Prelims Examination, ensuring that you have a holistic understanding of all the relevant subjects and topics.
2. Exam-like Experience: By taking mock tests, you can familiarize yourself with the pressure and challenges of the actual exam. It helps you develop the required exam temperament, confidence, and time management skills.
3. Self-Assessment: The test series enables you to assess your knowledge, strengths, and weaknesses accurately. By analyzing your performance in each test, you can identify areas that need improvement and focus your efforts accordingly.
4. Practice and Revision: Regularly taking mock tests allows you to practice and revise the concepts and topics covered in the exam. It helps in powerful your understanding and retention of crucial information.
5. Performance Analysis: RIIM Academy's Prelims Test Series provides detailed solutions and performance analysis for each test. You can review your answers, understand the correct approach, and learn from your mistakes. The performance analysis helps you track your progress, identify patterns, and measure your performance against other aspirants.
6. Time-bound Preparation: The test series follows a scheduled timeline, ensuring that you have stick to a disciplined study plan. It helps you stay on track and complete your syllabus within the given timeframe.
How to make the best use of a Prelims Test Series?
To make the best use of RIIM Academy's Prelims Test Series, consider the following tips:
1. Consistency and Discipline: Follow a regular study schedule and take mock tests at regular intervals. Consistency is key to improving your performance and staying on track.
2. Thorough Analysis: After each mock test, analyze your performance in detail. Understand the concepts you missed and revise them to strengthen your knowledge base. Take note of common mistakes or areas where you consistently face difficulties.
3. Revision and Practice: Use the test series as an opportunity to revise and practice the concepts covered. Focus on your weak areas and allocate more time for their improvement.
4. Learn from Solutions: Study the solutions provided for each test. Understand the reasoning behind the correct answers and clarify any doubts. This will help you enhance your problem-solving skills and approach questions more effectively.
5. Time Management: Practice managing your time efficiently during the mock tests. Develop strategies to tackle different question types and allocate the appropriate time to each section.
6. Seek Guidance: If you have any doubts or need clarification, reach out to mentors or subject matter experts. They can provide valuable guidance and help you overcome challenges.
7. RIIM Academy's Prelims Test Series offers comprehensive coverage, detailed solutions, performance analysis, and expert guidance, making it a valuable tool for your UPSC Prelims preparation. By leveraging these resources effectively and following a disciplined approach, you can boost your chances of success in the exam.