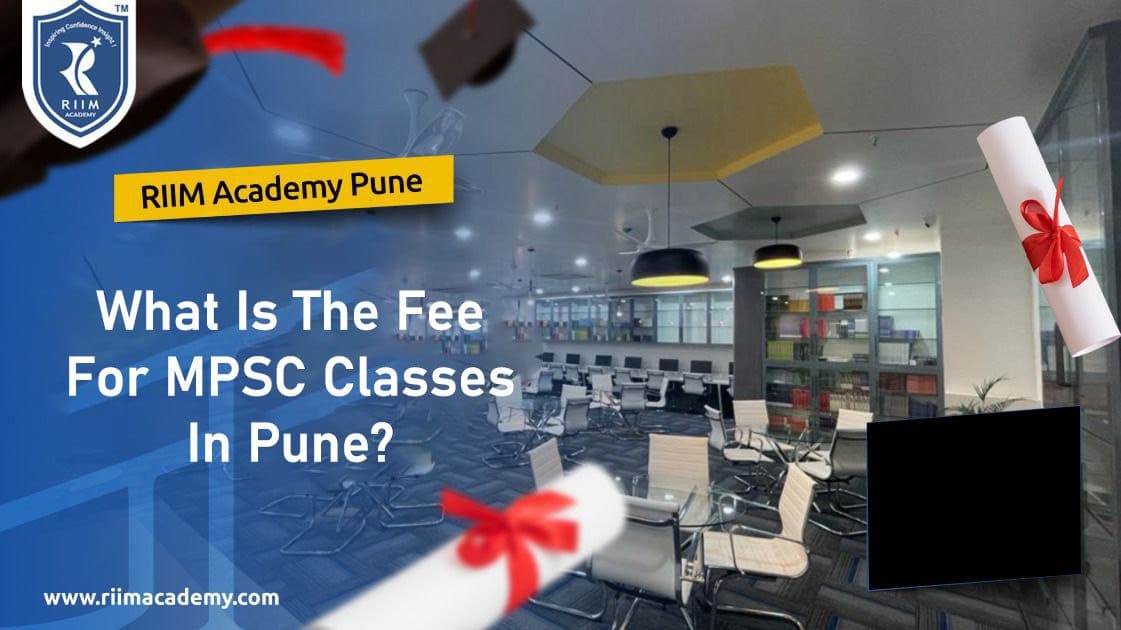 Introduction:
With the Maharashtra Public Service Commission (MPSC) exam being the gateway to esteemed executive roles, the demand for MPSC coaching classes in Pune has soared. Among the reputable coaching institutes in the city, RIIM Academy stands out as a beacon of academic excellence. We will take a closer look at the fees for MPSC classes at RIIM Academy and explore the valuable benefits they offer to aspiring civil servants.
RIIM: MPSC Academy in Pune
RIIM Academy, located in Pune, has garnered a solid reputation for its holistic approach to coaching aspirants for various competitive exams, including MPSC. Their faculty comprises experienced mentors, subject matter experts, and ex-civil servants who guide students through every stage of the examination process.
Understanding the MPSC Coaching Classes at RIIM Academy:
MPSC coaching classes at RIIM Academy are carefully designed to serve the diverse needs of students. Whether they are fresh graduates or working professionals aiming to excel in civil services, the institute provides flexible course structures to accommodate various schedules.
Fees Structure at RIIM Academy:
The fees for MPSC classes at RIIM Academy Pune are designed to be reasonable and competitive, considering the top-notch quality of education provided. The exact fee structure may vary based on the course duration, comprehensive coverage of the syllabus, and additional amenities. Typically, RIIM Academy offers the following courses:
1. Comprehensive MPSC Prelims+Mains+Test series (without optional subject)

Duration: 12 months
Fees: *Rs. 51000
2. MPSC Weekend Course Prelims+Mains+test series(without optional subject)
Duration: 12 months
Fees: *Rs.40000
MPSC Integrated BA/BSC/BCom/BBA + Prelims + Mains + Test Series
Duration: 12 months
Fees: Rs.81,000
*Note:
The above fee ranges are approximate and subject to change. Prospective students are encouraged to contact RIIM Academy directly for the most up-to-date information on fees.
Benefits of Enrolling in MPSC Classes in Pune at RIIM Academy:

1. Experienced Faculty: RIIM Academy boasts a team of highly qualified and experienced faculty members who provide comprehensive guidance throughout the preparation journey.
2. Extensive Study Material: Students gain access to well-structured study materials, including relevant books, practice papers, and current affairs updates.
3. Regular Mock Tests: RIIM Academy conducts regular mock tests to assess students' progress, strengthen their weaknesses, and boost their confidence.
4. Personalized Attention: The institute follows a student-centric approach, offering doubt-clearing sessions and personalized feedback to ensure every student's success.
5. Interview Preparation: RIIM Academy provides rigorous interview preparation to equip students with the necessary skills and confidence for the final stage of selection.

Conclusion:
RIIM Academy's MPSC classes in Pune offer a promising pathway to excel in the prestigious Maharashtra Public Service Commission examination. With reasonable fees, experienced faculty, and a student-focused approach, RIIM Academy stands as a beacon of hope for aspiring civil servants in Pune. For those committed to embarking on a successful journey toward a fulfilling career in civil services, enrolling in MPSC classes at RIIM Academy could be a transformative step toward achieving their dreams.