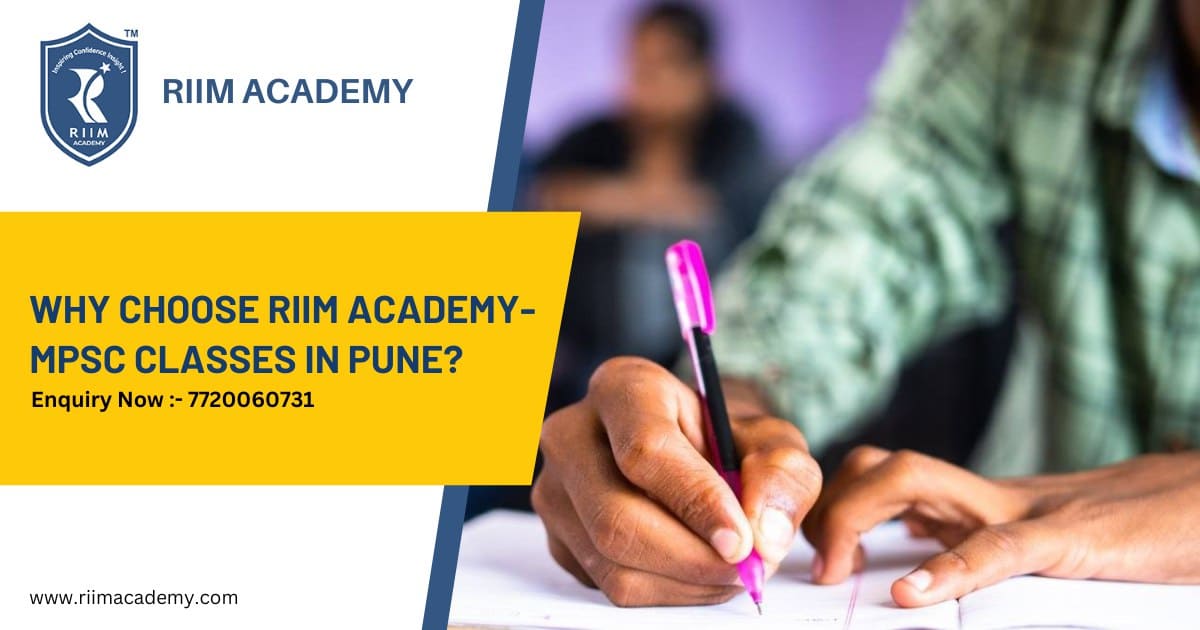 If you are on the lookout for top-notch MPSC classes, MPSC academies, or coaching centers in Pune to enhance your chances of cracking the highly competitive Maharashtra Public Service Commission (MPSC) exam, look no further than RIIM Academy! Our team of experienced and qualified faculty members is fully committed to providing students with the best guidance and training to ensure their success. In this blog post, we will explore the advantages of opting for MPSC classes in Pune and offer guidance on selecting the most suitable academy to meet your needs.
Why choose MPSC Classes in Pune? The MPSC exam is renowned for its challenging nature, demanding a comprehensive understanding of the syllabus and exam pattern. This is where MPSC classes in Pune come into play. RIIM Academy provides classes with a structured learning approach, granting students access to experienced faculty members and regular practice tests to help them prepare for the exam Pune, with its quantity of MPSC coaching centers, serves as an ideal location for students seeking comprehensive guidance and training.
Tips for Choosing the Best MPSC Classes in Pune
When it comes to selecting the perfect MPSC academy or coaching center in Pune, it's crucial to consider certain factors to ensure optimal results. Reputable MPSC classes in Pune conduct extensive research to provide the best offerings without scheming practices. Look for a RIIM academy that offers personalized attention, weekend batches, and crash course, boasts experienced faculty members, provides top-notch study materials, and monitors each student's progress to offer tailored assistance when needed.
RIIM Academy | MPSC Classes in Pune
RIIM Academy stands as one of the premier MPSC academies in Pune, dedicated to unlocking the full potential of every student. Our team of specialized and qualified faculty members possesses in-depth knowledge of the subjects they teach, along with extensive experience and expertise in guiding students for UPSC/MPSC examinations. We place great emphasis on promoting conceptual clarity by explaining fundamental concepts using plain language, ultimately enhancing student's comprehension skills.
Understanding the MPSC Institute in Pune At RIIM Academy, our coaching contains the entire syllabus and includes comprehensive practice tests, solving model papers, mock test series, weekend batches, and crash courses. We understand the significance of flexibility, which is why we offer weekend batches to cater to those with busy schedules. Our crash courses are designed to provide intensive preparation within a condensed timeframe. We pride ourselves on providing individual attention to each student, offering top-quality study materials, and closely monitoring their progress to provide personalized guidance when necessary. Moreover, we provide access to a 24/7 library and study hall, facilitating independent study.
To add up, making the right choice when it comes to MPSC classes, MPSC academies, or coaching centers in Pune holds the utmost importance for success in the exam. With RIIM Academy, you can be confident in receiving the finest guidance and training to help you unleash your full potential and achieve your career aspirations. Join us for our MPSC crash course or weekend batches to give your preparation an added boost. For more details, visit our website at https://riimacademy.com/.