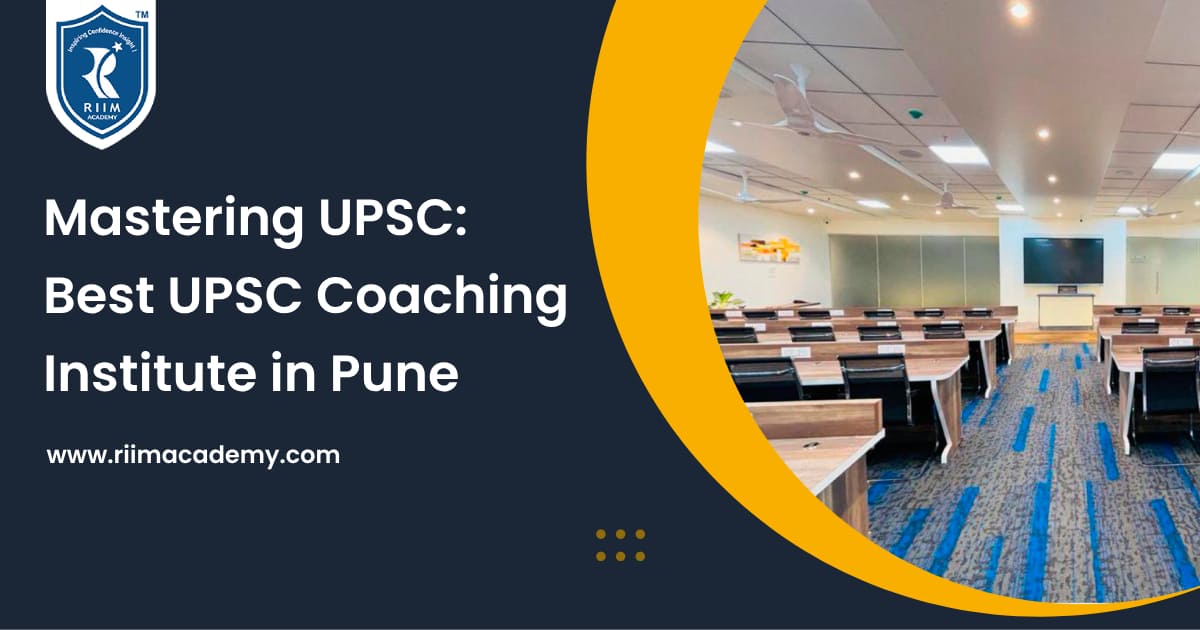 Introduction
The UPSC (Union Public Service Commission) exam is one of the most prestigious and challenging examinations in India, opening the gateway to a career in the civil services. With thousands of aspirants vying for a comprehensive and strategic preparation is essential to stand out from the crowd. For UPSC aspirants in Pune, finding the UPSC coaching institute can make all the difference in their journey towards success.
Why Choose a Coaching Institute?
Preparing for the UPSC exam demands a systematic and disciplined approach. While self-study is vital, joining a reputable coaching institute can enhance your chances of cracking the exam.
Here's why:
Expert Guidance: Qualified and experienced faculty members can provide valuable insights, shortcuts, and exam strategies to optimize your preparation.
Structured Curriculum: A well-designed syllabus with a structured approach ensures that you cover all the essential topics in a time-bound manner.
Peer Learning: Interacting with like-minded aspirants can foster healthy competition, motivation, and shared learning experiences.
Study Material: Access to well-researched study materials, current affairs updates, and previous years' question papers can boost your preparation.
Mock Tests and Personalized Feedback: Regular mock tests and personalized feedback help identify your strengths and weaknesses, enabling focused improvement.
Introducing RIIM Academy - Your Path to Success
When it comes to UPSC coaching in Pune, RIIM Academy stands out as a beacon of excellence. With a track record of producing successful candidates year after year, our institute is committed to nurturing and guiding aspirants towards their dream of serving the nation.
Key Features of RIIM Academy
Experienced Faculty: Our team of esteemed faculty members comprises experts from diverse fields, including civil servants and subject specialists. They bring their vast experience and knowledge to the classroom, providing unmatched mentorship.
Comprehensive Curriculum: The UPSC syllabus is vast, but our well-structured curriculum ensures that every topic is covered thoroughly. From the Preliminary examination to the Main examination and the interview, we leave no stone unturned.
Personalized Approach: At RIIM Academy, we recognize that each student is unique. We provide personalized attention to every aspirant, catering to their strengths and weaknesses to develop a customized study plan.
Library and E-learning Resources: Our well-stocked library and e-learning resources give students access to a wealth of study material, current affairs updates, and previous years' question papers, aiding their preparation journey.
Regular Mock Tests: To simulate the real exam experience, we conduct regular mock tests. These tests help aspirants gauge their progress, build confidence, and work on time management.
Current Affairs and Group Discussions: Staying updated with current affairs is crucial for the UPSC exam. We conduct regular sessions and group discussions to keep aspirants abreast of the latest happenings.
Success Stories
Over the years, RIIM Academy has seen numerous success stories, with our alumni holding prestigious positions in the civil services. Their journeys from being aspirants to successful civil servants are a testament to the quality education and guidance we provide.
How to Enroll?
Enrolling at RIIM Academy is a straightforward process. Interested candidates can visit our website (https://riimacademy.com) or the institute's office to get more information about the available courses and batches. Our counselors are always ready to guide you through the enrollment process.
Conclusion
Cracking the UPSC exam requires dedication, perseverance, and the right guidance. RIIM Academy, the leading UPSC coaching institute in Pune, is committed to empowering aspirants and helping them realize their dreams. Join us today and embark on your journey towards serving the nation and making a difference. Remember, with the right preparation and support, you can conquer the UPSC and shine as a civil servant. Good luck!