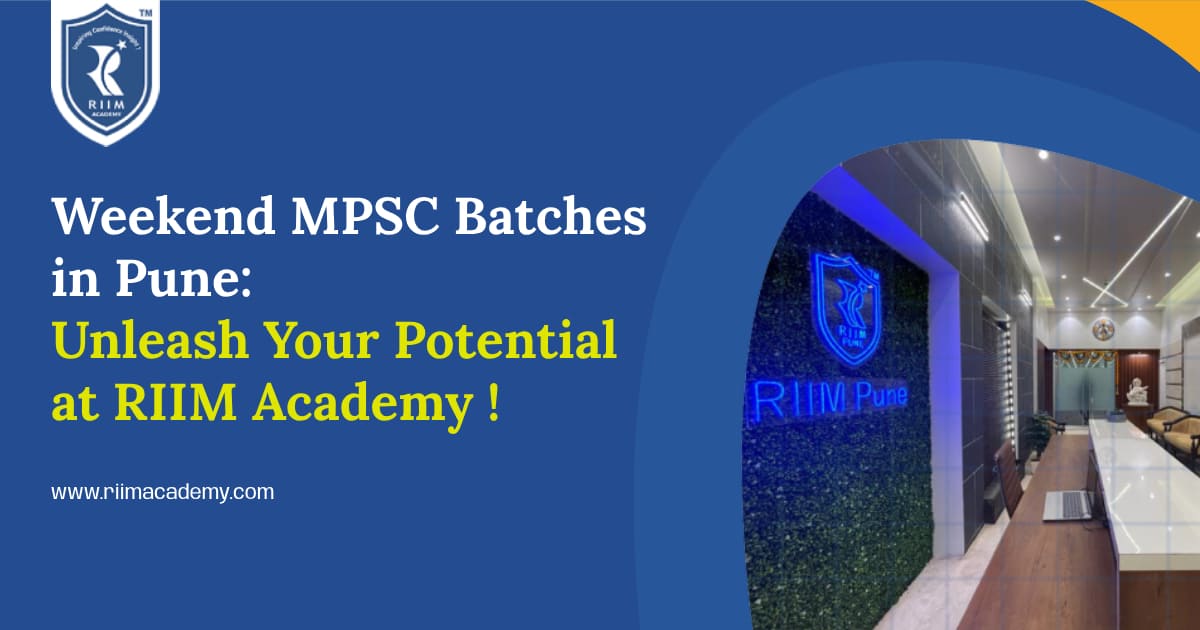 If you are a working professional or a student with a busy weekday schedule but have aspirations to crack the Maharashtra Public Service Commission (MPSC) exams, then RIIM Academy in Pune has the perfect solution for you! RIIM Academy offers weekend MPSC batches in Pune to cater to the needs of aspiring candidates who seek quality guidance and comprehensive preparation for this prestigious examination.
Here's why RIIM Academy's weekend MPSC batches are the ideal choice for your exam preparation:
Flexibility for Working Professionals: RIIM Academy understands the time constraints faced by working professionals who wish to prepare for the MPSC exams.
With our weekend batches, you can pursue your career goals during the weekdays and dedicate your weekends to focused and result-oriented MPSC preparation.
Expert Faculty and Comprehensive Curriculum: Our academy boasts a team of experienced and knowledgeable faculty members who are well-versed with the MPSC exam pattern and syllabus. They are committed to providing the best guidance and imparting in-depth subject knowledge to every student. Our comprehensive curriculum covers all relevant topics and is regularly updated to align with the latest exam trends.
Personalized Attention: In our weekend batches, we maintain smaller batch sizes to ensure that each student receives personalized attention from the faculty. This approach allows us to identify individual strengths and weaknesses, enabling us to offer tailored guidance and support to every aspirant.
Mock Tests and Practice Sessions: At RIIM Academy, we believe in the power of practice. Our weekend batches include regular mock tests and practice sessions that simulate the actual exam environment. These assessments help candidates gauge their progress, identify areas for improvement, and build the confidence needed to excel in the MPSC exams.
Study Material and Resources: We provide our weekend batch students with high-quality study material and access to a vast array of resources, including previous year question papers, reference books, and current affairs materials. This ensures that our students have all the necessary tools to prepare comprehensively for the exams.
Supportive Learning Environment: RIIM Academy is known for its supportive and motivating learning environment. Our faculty and staff are always available to address students' queries and provide timely guidance. Additionally, we encourage peer learning and group discussions to foster a collaborative and engaging learning atmosphere.
In conclusion, if you are based in Pune and aiming to crack the MPSC exams while juggling other commitments, RIIM Academy's weekend batches are the perfect fit for you. With our flexible schedule, expert faculty, personalized attention, and comprehensive resources, you can be confident of unlocking your full potential and achieving success in the MPSC examinations. Join RIIM Academy's weekend MPSC batches, and embark on your journey towards a rewarding career in government services.