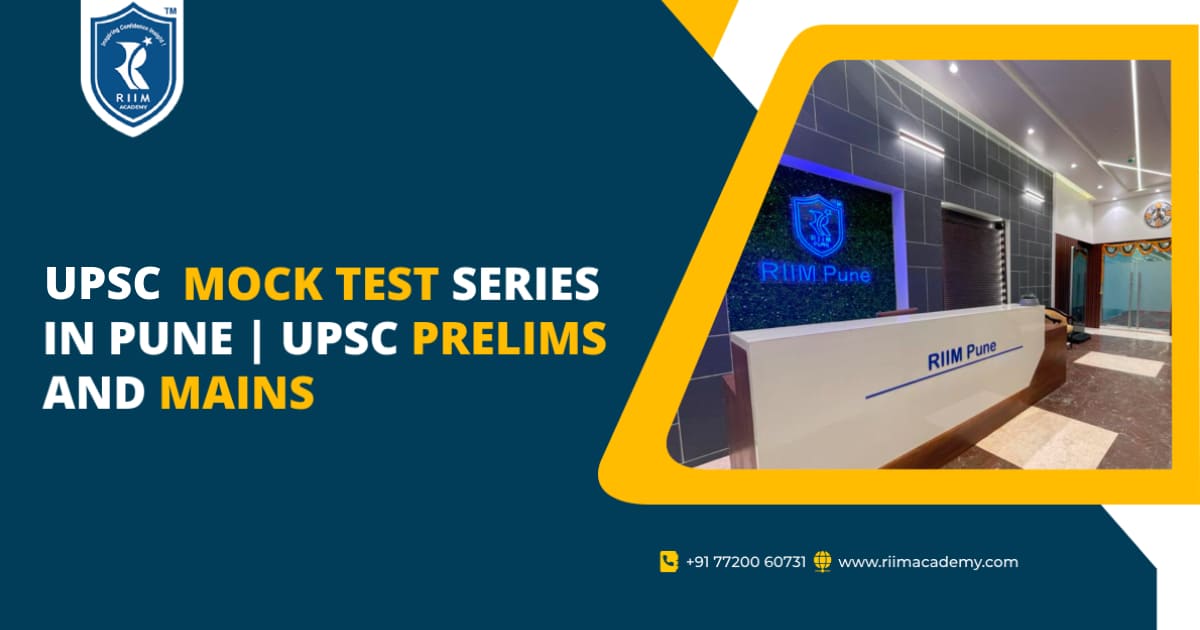 Introduction:
Preparing for the UPSC examination demands dedication, comprehensive preparation, and rigorous practice. In Pune, RIIM Academy has emerged as a leading institute, guiding UPSC aspirants with its exceptional UPSC Mock Test Series. With a strong focus on providing top-notch mock tests, personalized feedback, and innovative teaching methodologies, RIIM Academy has become the preferred destination for UPSC Test Series in Pune.
Comprehensive Mock Tests for Effective Assessment:
At RIIM Academy, we understand the significance of practice in honing an aspirant's skills and confidence for the UPSC examination.


To ensure students can assess their preparation levels effectively, we offer a wide range of meticulously designed mock tests. Our comprehensive mock test series covers all essential subjects and topics of the UPSC examination, allowing students to gain a holistic understanding of their strengths and areas that require improvement.
RIIM Academy prides itself on having a team of experienced faculty members who play a pivotal role in crafting the UPSC Test Series. Renowned educators and subject matter experts form the core of our faculty, ensuring that students receive guidance from the best minds in the field. Their expertise in curating mock tests that closely resemble the actual UPSC exam helps students gauge their performance accurately and prepare strategically.
What sets RIIM Academy apart as a premier institute for UPSC Mock Test Series in Pune is its innovative approach to providing practice opportunities. We incorporate modern teaching methodologies to make learning engaging and effective. Our faculty members utilize interactive techniques, audio-visual aids, and practical examples to ensure students grasp complex topics with ease, leading to enhanced retention and application.
Beyond conducting mock tests, RIIM Academy focuses on providing detailed feedback and performance analysis to students attending the UPSC Test Series. Our faculty meticulously evaluates students' answers and provides personalized insights and tips for improvement. This approach empowers aspirants to identify areas that require attention and refinement, leading to targeted and effective preparation.
Preparation for the UPSC Examination:
RIIM Academy believes in nurturing every aspect of an aspirant's preparation journey. Apart from mock tests and performance analysis, we provide comprehensive study materials, regular doubt-solving sessions, and one-on-one mentoring to address individual needs. This holistic approach ensures that students develop a well-rounded understanding of the UPSC syllabus, instilling the confidence and readiness required to conquer the challenges of the examination.
Conclusion:
RIIM Academy stands as a beacon of excellence in providing UPSC Test Series in Pune. With our renowned faculty, innovative teaching methodologies, comprehensive mock test series, personalized feedback, and detailed performance analysis, we have empowered numerous aspirants to excel in the UPSC examination. By choosing RIIM Academy for their UPSC mock Test Series in Pune, students gain the necessary practice, confidence, and exam readiness to achieve success in their pursuit of a rewarding career in public service.